Walk-Off Wildness
Championship Saturday Recap
By Rob Tong
Tue, Aug 30, 2017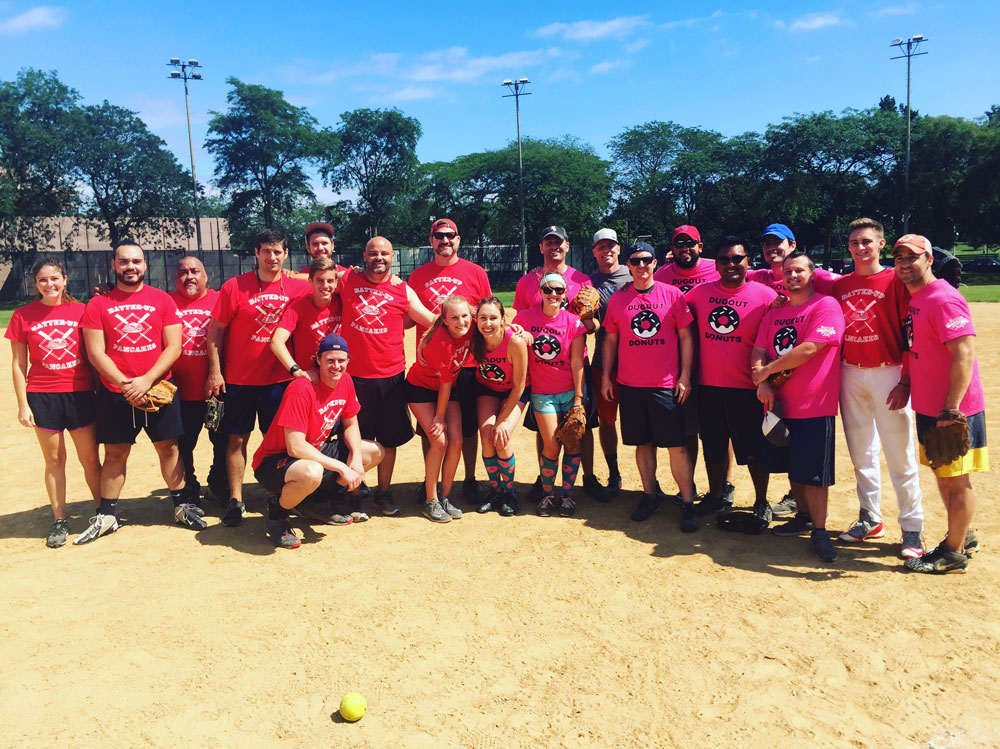 Batter-Up Pancakes and Dugout Donuts
Epic.
That one word aptly describes what turned out to be a historic day for the Moody Softball league, as not one, but TWO games were decided by walk-off winners, a first for the league on Championship Saturday.
8am Semi-Final game: Dugout Donuts vs Ospreys
The last time these teams faced each other, the Ospreys surprised everyone with an easy win over the Donuts. But that was a month and a half ago.
This game was much closer. The two heavyweights traded blows, almost like
McGregor-Mayweather
. The Ospreys had the lead most of the game but the Donuts battled back to take a one-run lead into the bottom of the seventh inning.
Because the Ospreys did not have a female in their lineup, they were penalized with an automatic out at the bottom of their order. That bottom of the order happened to be due in the bottom of that final inning, so the Donuts had one out to start that final inning, trying to protect their one-run lead.
Donuts captain/pitcher Mandy Verduin, who was uncharacteristically a little off her pitching game throughout the contest, walked the first batter she faced, John Fraats. The Ospreys' Michael Best punched out a single to put the tying run in scoring position and himself represented the winning run. And Bryon Ritzema won the game for the Ospreys in dramatic fashion with a three-run home run over the fence.
One key moment of the game was when the Donuts' Jeremiah Carvell struck out looking against Ritzema, the Ospreys' surprise pitcher, with runners on base.
The Donuts thus were unable to return to the Championship Game for a second year in a row, while the elated Ospreys awaited the winner of the Caravan-Power game.
9:20am Semi-Final game: Caravan vs Power
Though the Caravan was missing slugger Josue Contreras, they still had David Needham and Alex Ruffolo, who went yard against Power pitcher Rob Tong while
subbing for the Chicago Evergreens
on August 5th.
Unfortunately, the Power was on after a slow start. Caravan only trailed 2-1 going into the bottom of the third inning but Power put up three 5-run frames to outmuscle Caravan. Power's Jorge Valentin displayed some power of his own when he smashed a two-run home run over the fence in the fourth inning. Felipe Chavez reached base all four times with five RBIs, and Robert Martinez matched him with a 4-for-4 day and five RBIs of his own. Erik Summers chipped in with a 4-for-4, 3 RBI stat line. And Nina Borges and Michelle Wintrich were a combined 4-for-6 with an RBI. The only Power player not to get a hit was Tong.
Caravan got a great performance from Chlece Neal, who smoked a ball into the outfield and made a highlight-reel play on defense, knocking down a hard-hit ball by Power's Mikey Rolon with her thigh and staying with it to throw Rolon out at first.
Power now returns to the Championship Game to face the upstart Ospreys.
10:40am Championship Game: Ospreys vs Power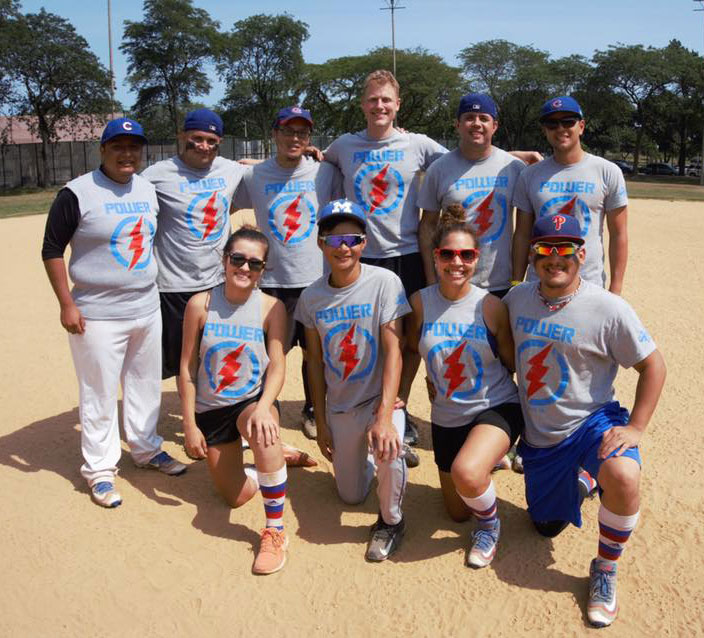 Power wins the 2017 Championship
If I told you Power's Jeff Kobayashi would only bat .500 in this game, and that Chavez would only have one RBI, and that Martinez would go 0-for-3, and that Summers would only have one RBI, and that Power's top seven hitters combined would hit under .500 (only 12-for-26, or .462), you would probably bet some of your hard-earned money that Power would lose.
And if I told you that the Ospreys had a two-run lead with two outs in the bottom of the seventh inning, no one on base, and the bottom half of Power's batting order due up, you would probably double down on your hard-earned money that Power would lose.
"

It's a good thing you don't gamble!

"
Well, it's a good thing you don't gamble!
Power started off strong, shutting out the Ospreys in the first inning while scoring four. But the Ospreys were unfazed, coming back to score the max five runs in the second inning while shutting out Power to stay within a 5-4 deficit heading into the bottom of the fourth inning.
Power turned on again, scoring their own five-spot to take what looked like a sizable 9-5 lead going into the fifth inning. But the Ospreys kept chipping away, scoring one run in that fifth inning and two more in the sixth inning. Power scratched across an insurance run in the bottom of the sixth to take a 10-8 lead going into the final inning of the season.
Power again got offensive sparks from Borges and Wintrich, who went 3-for-6 in the Championship Game. They also got two defensive gems by Ethan Tong at second base. And they appeared to get a break when Ritzema pulled a hamstring beating out a potential double-play. (Ritzema did stay in the game and continued to pitch and hit well.)
But like the Donuts' lead against the Ospreys in the seventh inning, Power's seventh inning lead was not enough.
As in the Donuts-Ospreys game, the Ospreys started that seventh inning with an automatic out, so Power already had one out in hand when they took the field. But the Ospreys pushed one run home to cut Power's lead to one. Then, with two runners on base after a couple Power errors in the field, the Ospreys' Frank Slomkowski hit a line drive over Summers' head that resulted in a stunning three-run home run. Naturally, the Ospreys celebrated heartily as Slomkowski crossed the plate. The Ospreys had turned a two-run deficit into a two-run lead against the defending champs.
Summers led off for Power in the bottom of the seventh but flied out. You would be excused if you thought Power's best chance of a comeback just died.
Rolon, who had hit multiple homers over the fence in the regular season, struck out looking on dubious calls, but did not argue at all. Now there were two outs with no one on base. And still a two-run deficit for Power.
"One more out!" Ospreys players yelled out in anticipation.
But Valentin, who was only 1-for-3 to that point against Ritzema, roped a single to left-center. Then, Ethan Tong, who was also only 1-for-3 to that point against Ritzema, lined a single to center. The tying run was now on first base. And Rob Tong, who was 0-for-Caravan but quietly was 3-for-3 in plate appearances against Ritzema so far, laced a line drive down the right-field line. Tong just barely beat the throw home for a stunning three-run walk-off home run to help give Power back-to-back titles.
Power players raced to home plate to celebrate one of the most, if not
the
most, improbable comebacks in Moody Softball history. And the back-to-back championships are the first for a coaching duo (Tong/Martinez) in Moody Softball history.
No one could have scripted a more dramatic finish to this 11th Moody Softball season.
Lord willing, we'll see you next season for more fun in the Son!
Home | News | Scoreboard | Standings | Schedule | Teams | Players | Stats
Copyright © 2006-15 MCSN | About this site | Rules | Contact us